Congratulations to Trey Smith on qualifying for the state golf tournament in June. Trey had the second best score during the state qualifying rounds at Fairways @ Halfmoon this past weekend. Spartan STRONG!

The Winter Sports season is upon us. FamilyID opened today for JV & Varsity winter sports registrations. If you are looking to participate in any of the sports listed below, register your child today at
https://www.familyid.com/organizations/greenville-csd-athletics
. You can also find the FamilyID registration platform on the school website on the athletic page. I attached FamilyID registration directions as well. Sports offered during the Winter Season include... Boys Basketball (Modified, JV, & Varsity) Girls Basketball (Modified, JV, & Varsity) Cheerleading (Varsity) Boys Volleyball (Modified & Varsity) Modified is 7-9th grade and varsity 10-12th grade. Wrestling (Modified & Varsity) JV/V Sports begin on November 15th. Registrations opened today for all 9-12th grade students. Modified sports (7-8 grade) begin November 22nd. Registrations will open October 22nd for all 7th & 8th graders. All 7th & 8th grade students need to register for modified sports, not JV/varsity. Thanks everyone, Denise Wickham
The new MS/HS Library Makerspace is in full swing! Last week, the FFA used the Cricut to make t-shirt decals. And this week we are testing printing/cutting some student-designed stickers for an upcoming Studio Art project.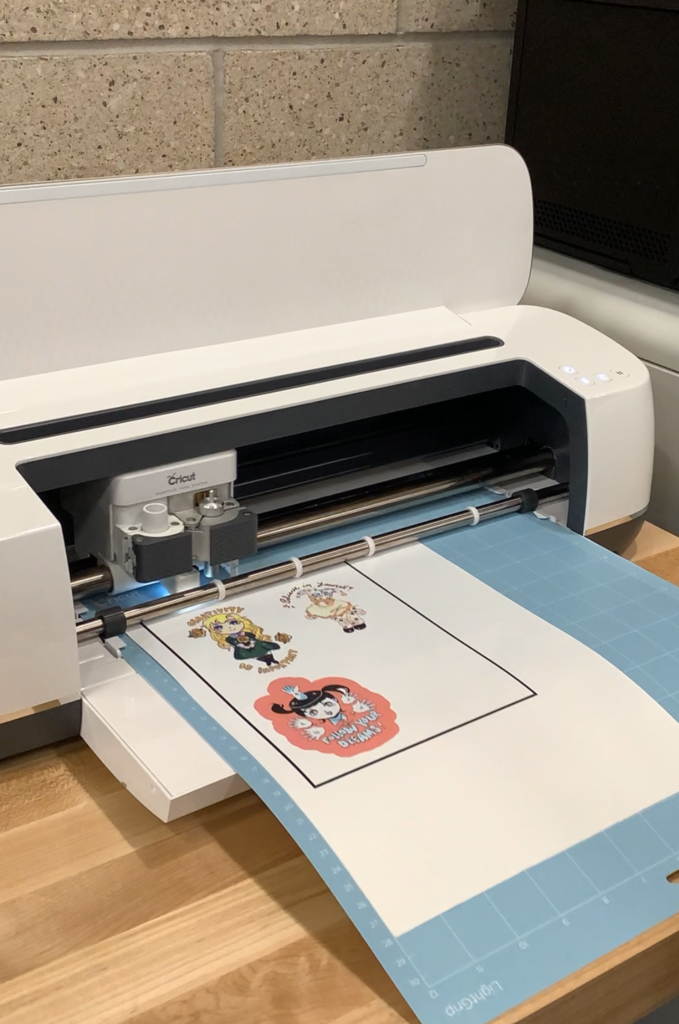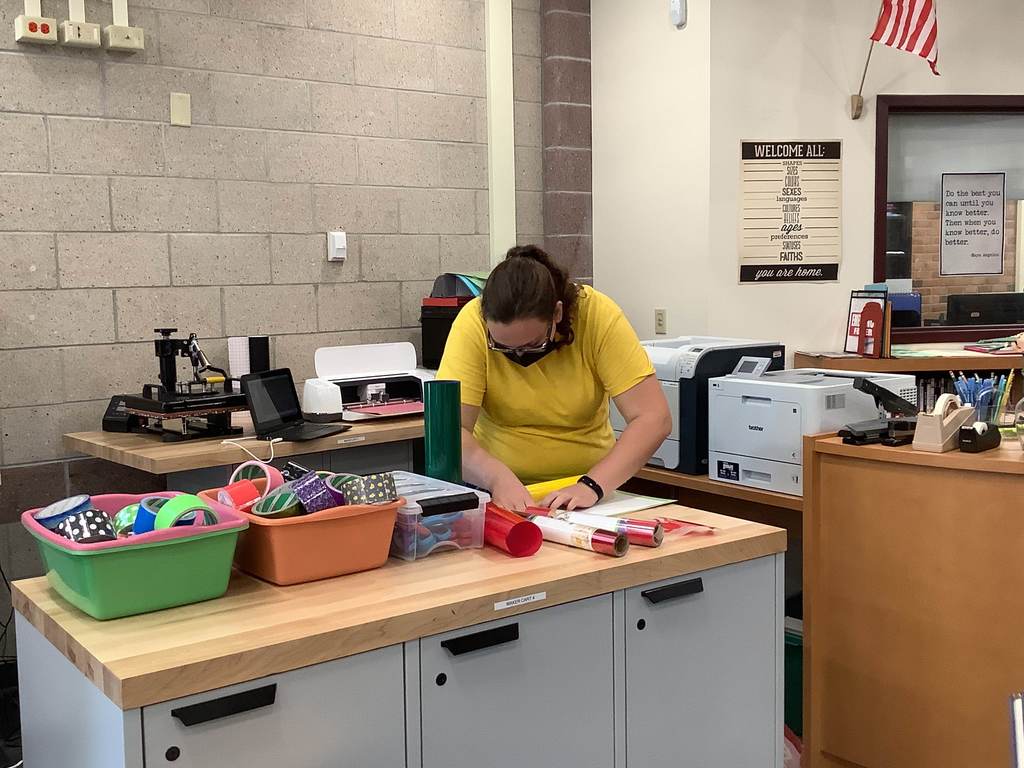 The new MS/HS Library Makerspace is in full swing! Last week, the FFA used the Cricut to make t-shirt decals. And this week we are testing printing/cutting some student-designed stickers for an upcoming Studio Art project.
The GCSD Board of Education has begun a search for the new Superintendent of Schools. They invite parents, guardians, students, employees, and the community to complete the survey below. Your input will assist the Board in developing a profile of desirable qualities of this individual. The survey questions ask you to rate how important various attributes or characteristics of the next Superintendent are to you. Once the survey period closes on October 22nd, a summary of all responses will be completed and the Board will use it to help evaluate the various individuals that have applied. This survey is anonymous and your input is greatly appreciated!
https://qfreeaccountssjc1.az1.qualtrics.com/jfe/form/SV_6R2gddbCPqjzmpo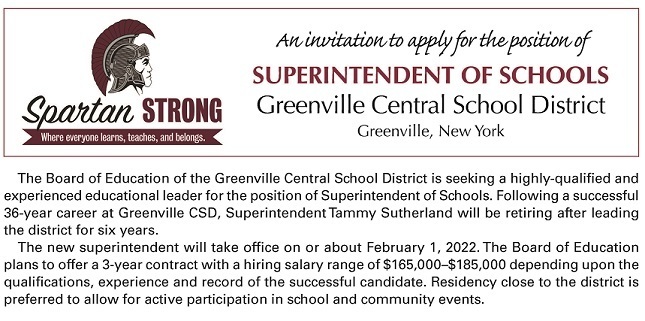 Wear your smile for HS Picture Day, Tuesday October 5th.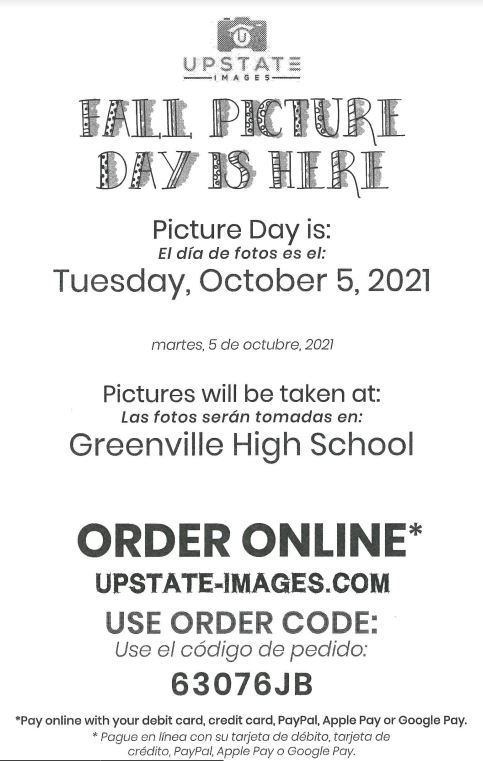 PSAT/NMSQT opportunity for Juniors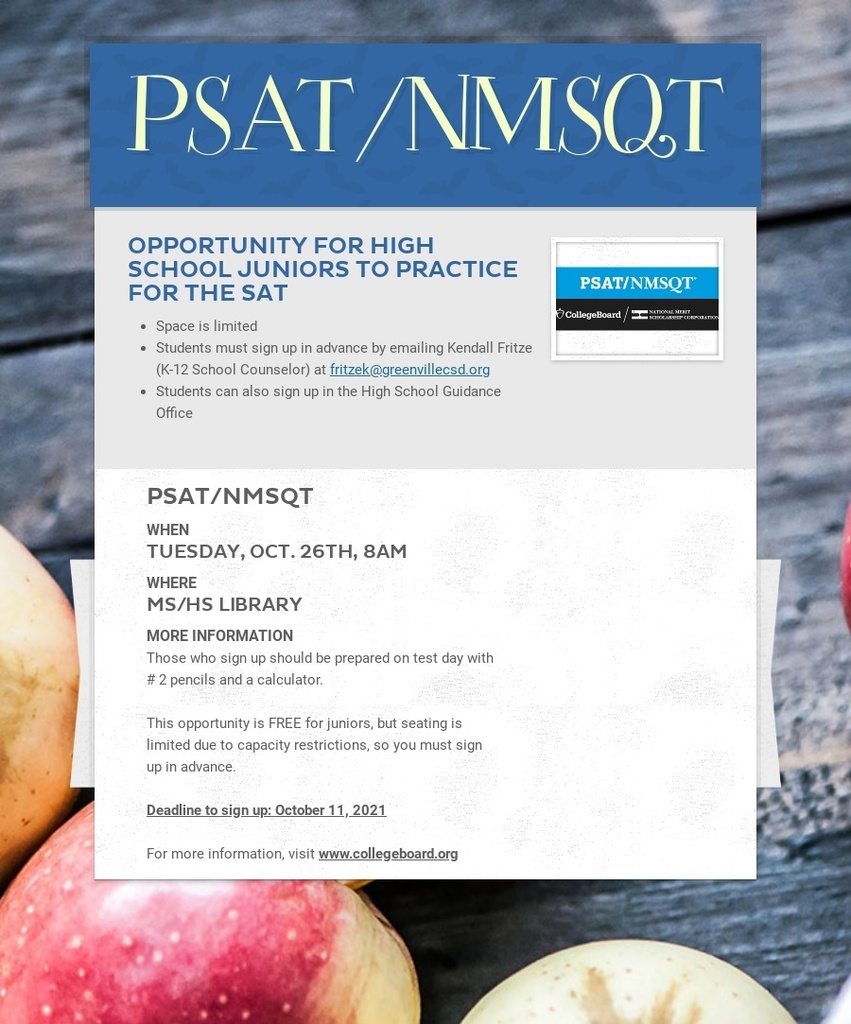 HS Picture Day 10.5. 2021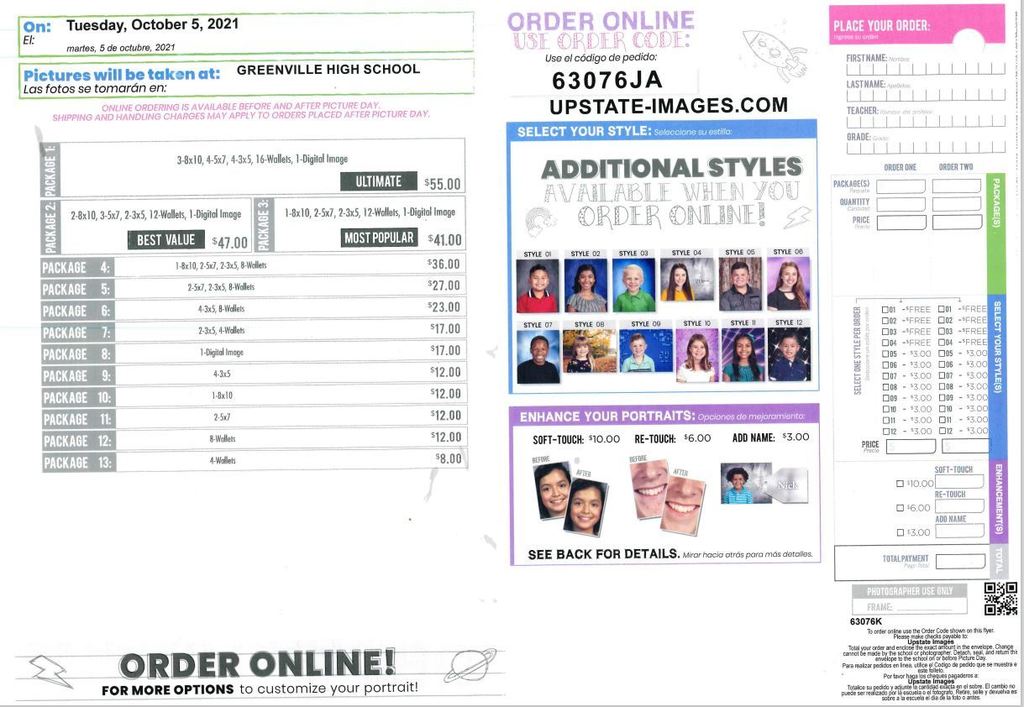 Girls Tennis is postponed today, September 23, 2021 due to the weather. This match against Coxsackie will be played tomorrow, September 24, 2021 at 4:15pm. This will be senior recognition as well.

Today is a busy day for Greenville athletics. Here is what I have for today JV/V Volleyball vs Chatham 4:15pm in the HS Gym (Only 2 spectators per player) Mod Volleyball vs Germantown 4:30pm in the MS Gym (Only 2 spectators per player) Girls Tennis vs Coxsackie 4:15pm at the Tennis Courts Boys JV Soccer vs Cairo on the Track Field 4:15pm (Please park in the student lot and lower staff lot) Boys Varsity Soccer vs Cairo 7:00pm on the Track Field (Please park in the student lot and lower staff lot) Due to the many activities going on today we will only be allowing handicapped, senior citizens, officials and the veterans to park out back this evening. We will have the cart available for those who would like a ride out the field. It is looking like rain so be prepared to get wet. Lets have a great night Spartans and Lady Spartans!

Greenville CSD: Our next Parents as Partners info session with Dr. Jennifer Bashant. If interested, email
kristen@buildingbetterfuturesllc.com
to ask for the zoom link and password. Even if you can't attend live, you can request the link to view recording after the live webinar.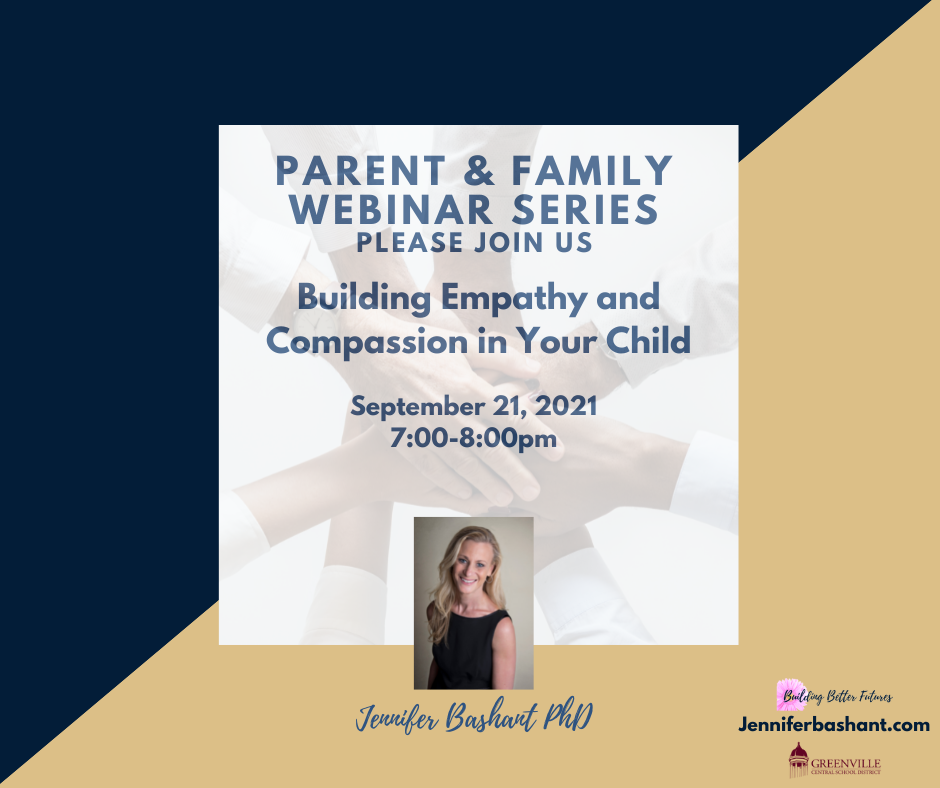 The Greenville Central School District has one opening at the Universal Pre-K program at UMC Norton Hill. For more information, please contact Lynette Terrell at
terrelll@greenvillecsd.org
or (518) 966-5070 ext. 305.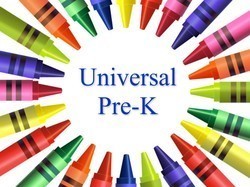 HS/MS Spirit Week starts Monday, 9/20.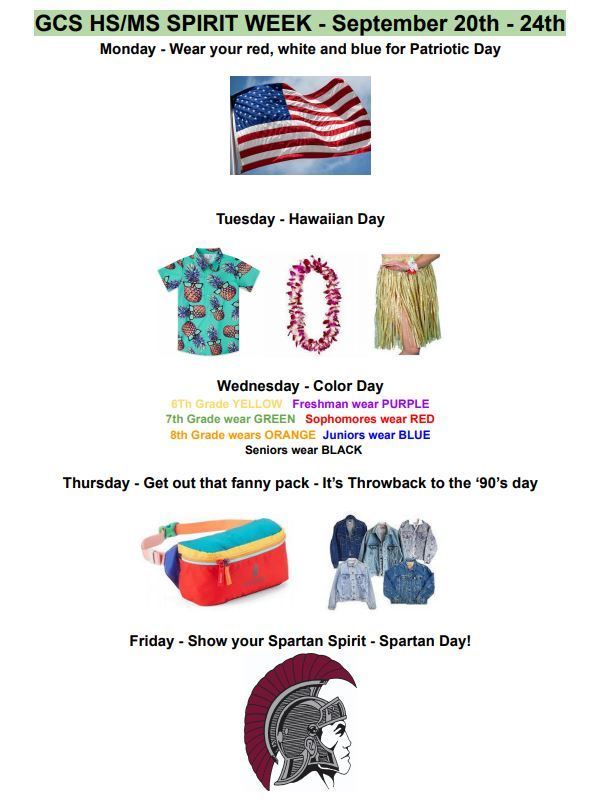 Opening day for the 2021-2022 school year!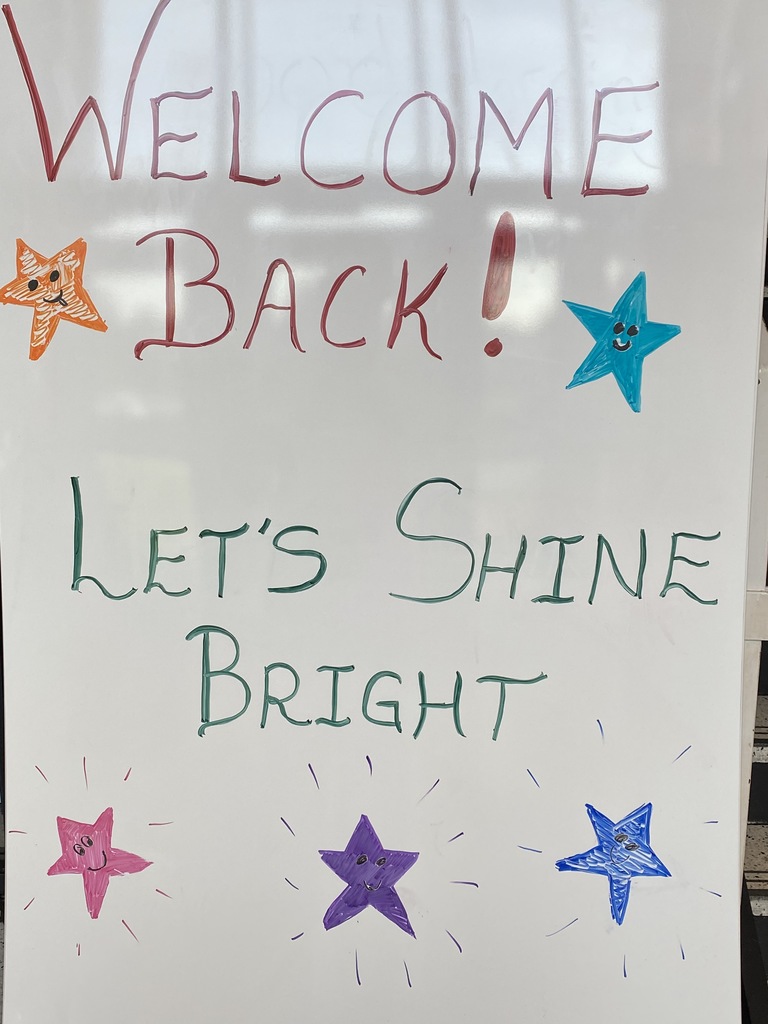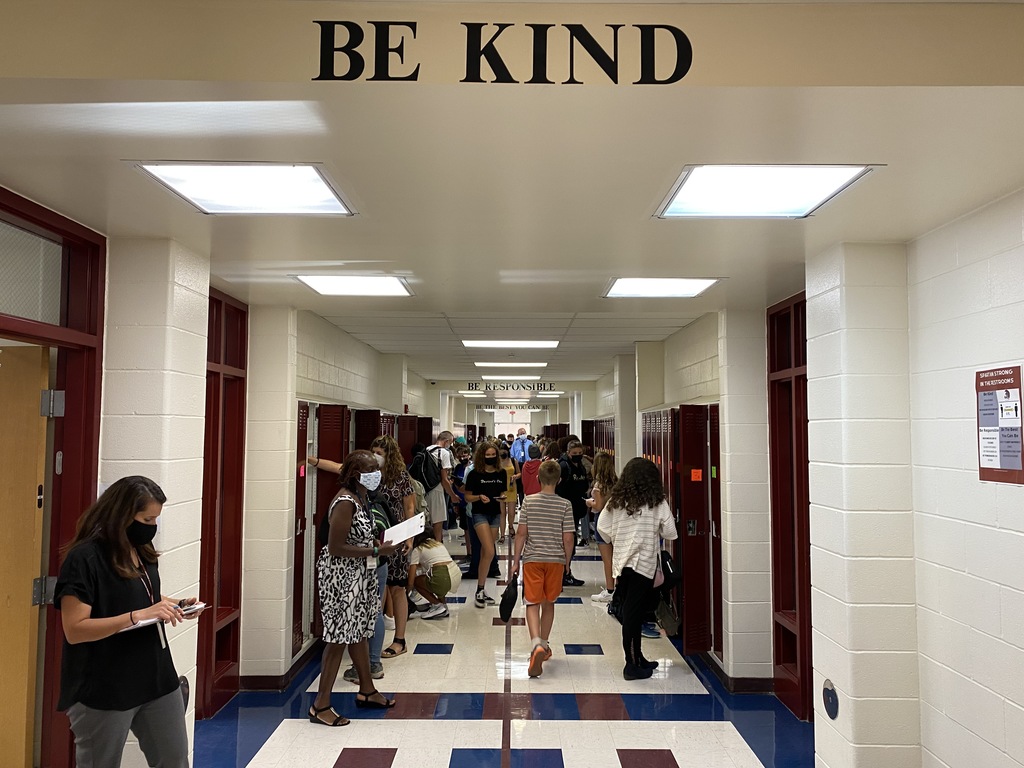 Great News! The YMCA has met the minimum enrollment requirements and will have an after-school care program at Scott M. Ellis for the 2021-2022 school year. If you would like to sign-up or would like additional information, please contact the YMCA.

It is an honor to introduce myself as the new principal at GHS. I have been dedicated to the field of education for over 18 years. I live with my husband Jason, we have a son who is a senior in high school and a six month old Goldendoodle. To our GHS students, I cannot wait to meet each and every one of you! To our GHS families, I look forward to partnering with you as we prepare our students for their bright futures ahead. - Mrs. Kristy Goergen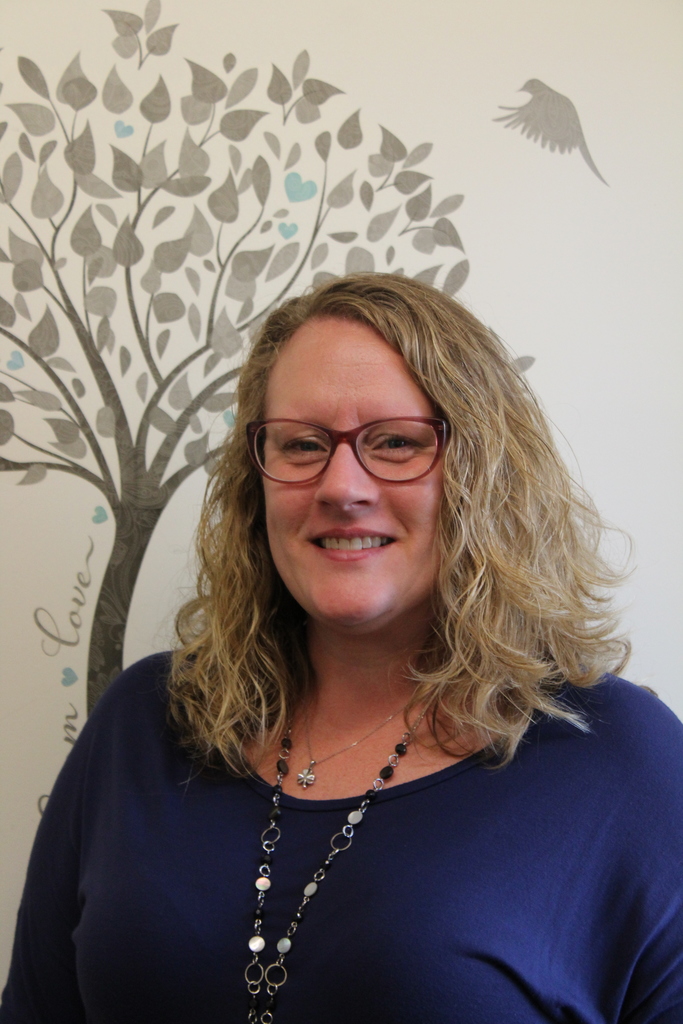 Please welcome our new K-12 District Principal Matthew Berkshire! Mr. Berkshire has 19 years of experience in education as a teacher and administrator. He joins us from the Schenectady City School District where he was the principal of Paige Elementary School. Mr. Berkshire lives in Middleburgh with his wife, Tracy, and two children, Robin (6) and Emory (4). Mr. Berkshire enjoys traveling with his family, competing in triathlons and hosting his own radio show.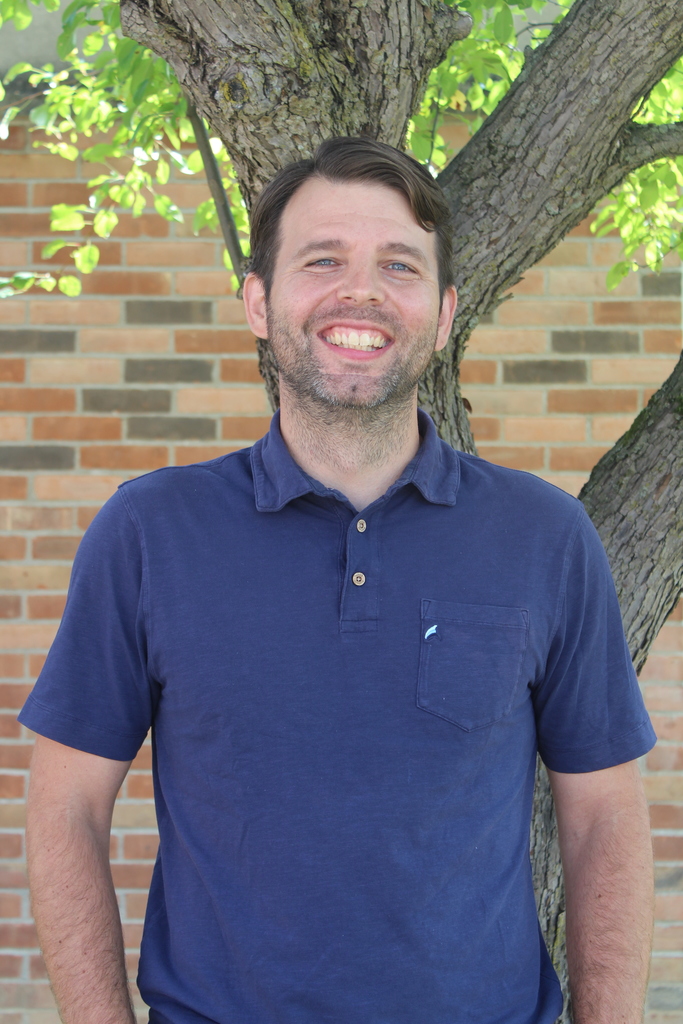 Fall Sports Registrations and Important Dates The Fall sports registrations are closing on August 19, 2021. If you have not registered your child on FamilyID for fall sports please do so before August 19th. The "Intent to Participate" was NOT the full registration. Our Fall athletic programs still have room for more participants. Currently, the teams that have the lowest numbers and may be in jeopardy of not running this fall are: Varsity girls cross country (4) Modified girls cross country (4) Modified girls soccer (11) Modified boys soccer (8) The girls cross country and the boys and girls soccer programs at Greenville have been very successful over the years. If your child has an interest in running or playing soccer please register now. Important Fall Dates: August 23, 2021 - JV/Varsity Sports Begin August 30, 2021 - Modified Sports Begin September 10, 2021 - Fall Sports Picture Day September 20-25, 2021 - Homecoming Week Let's have a great season! Ms. Wickham
Help Support the GCS Athletic Programs! Join us for a day of great golf, excellent food, prizes & fun! Date: Sunday, August 29th (rain or shine) Time: 1:00pm Location: Thunderhart Golf Club, Freehold, NY Format: 4 Person Scramble Fee: $90.00 per player (includes green fee, cart, lunch, dinner, donation, and prizes) Call Kevin Smith at Thunderhart Golf Club @ 518-634-7816 to reserve your slot.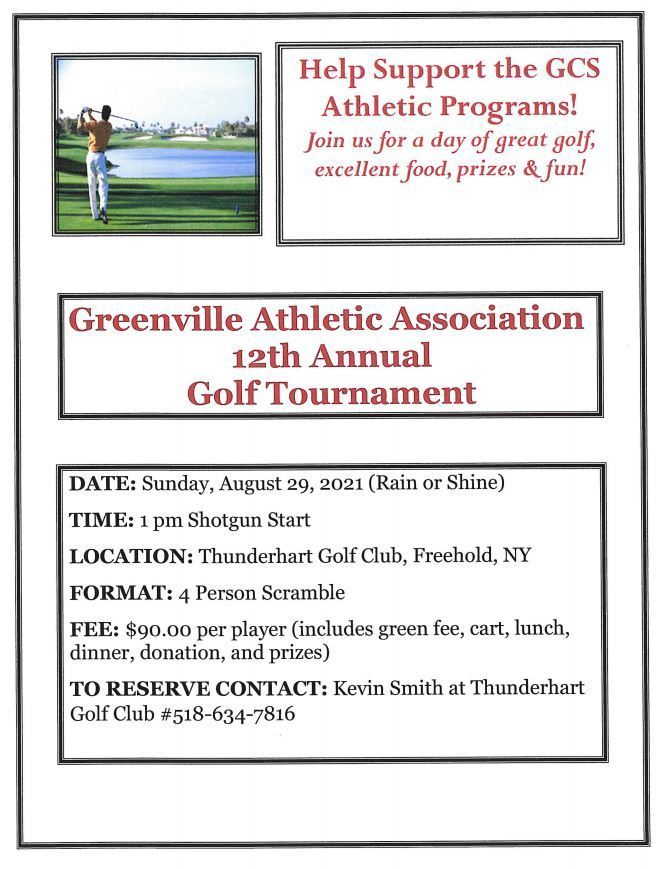 Class of 2022 - Set up your senior portrait session with UpState today. See attached flyer. Upstate will be here next week Monday - Thursday, August 9 -12.