ELEMENTARY SCHOOL CLUBS & ACTIVITIES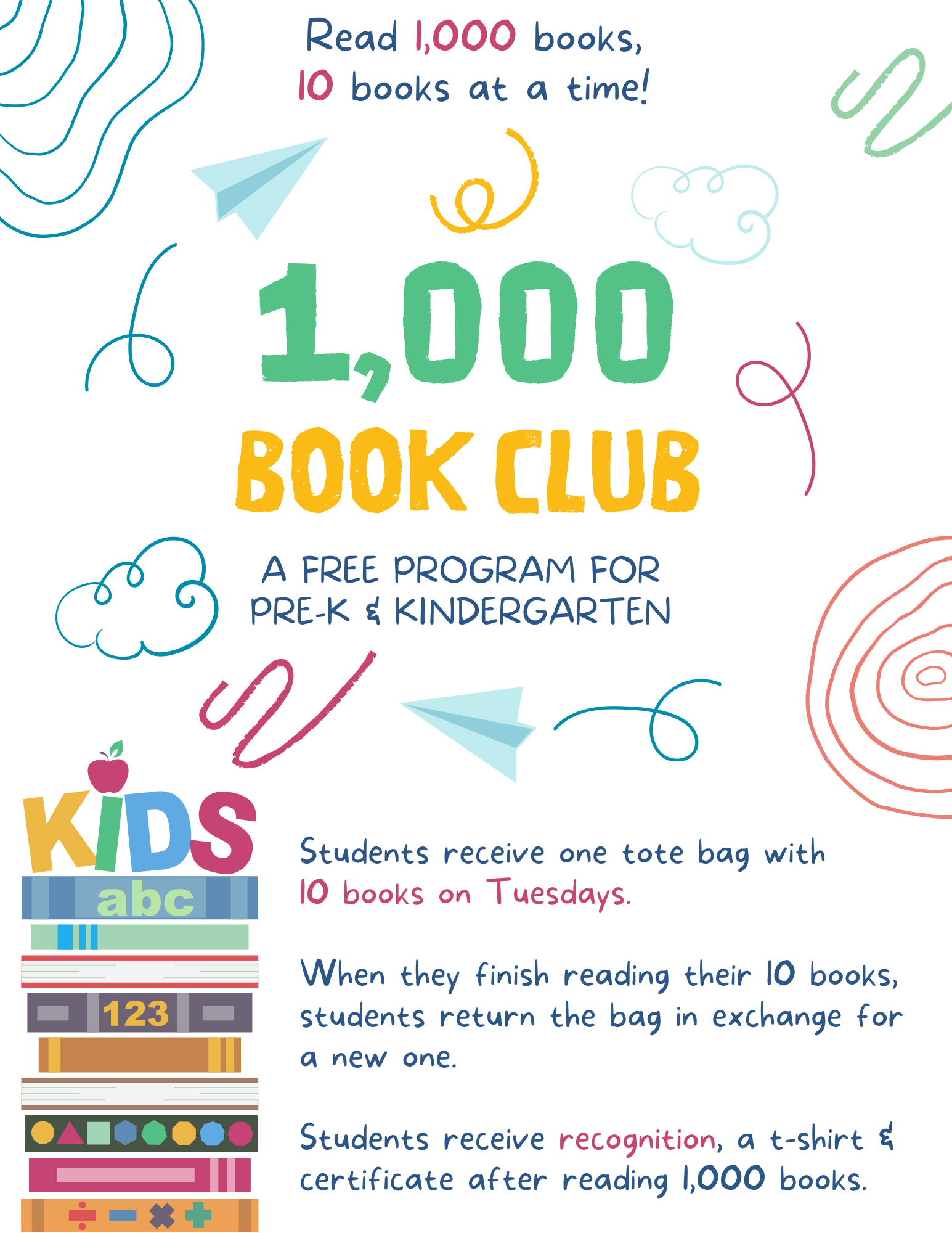 The 1,000 Book Club Program is back at Scott M. Ellis Elementary School for the 2022-2023 school year!
This is a free book program for Pre-K and Kindergarten students.
In conjunction with parents and volunteers, our youngest students will have the opportunity to gain essential literacy skills and a love of reading. Families can sign their students up by filling out a registration form.

HOW IT WORKS
Sign your Pre-K or Kindergarten student up by filling out the registration form.

Once registered, students will be given one tote bag filled with 10 books each week.

When they finish reading that bag of books, they will return it in exchange for a new bag and continue on to read 1,000 books - 10 books at a time.

Bags will be exchanged on Tuesdays each week.

This program runs all year, and upon completion, students will receive recognition, a t-shirt, and a certificate.
Interested in volunteering on Tuesday mornings? Get in touch, we're always looking for volunteers!
If you have any questions about the program, please email Diane Carl at carld@greenvillecsd.org or Maragret Robertson at robertsonm@greenvillecsd.org. Please include "1,000 Book Program" in the subject of your email.
Nature's Classroom
Advisor: Brian Hostash
Elementary Instrumentals - Fall
Vacant
Elementary Intramurals - Spring
Vacant
Elementary Caring Kids
Advisor: Vikki Hawkins
Elementary Yearbook
Advisor: Karen Overbaugh & Carrie Rath
Elementary Band Director
Advisor: Aaron Clermont
Elementary Art Club
Advisor: Lara Kelley
Elementary Technology
Advisor: Vacant
Computer Club
Advisor: Vikki Hawkins
Fifth Grade Musical
Director: Adrian Catucci
ES Choral Director
Janine Rochler
ES Band Director
Aaron Clermont
ES Chess Club
Advisor: Cathy Dawson