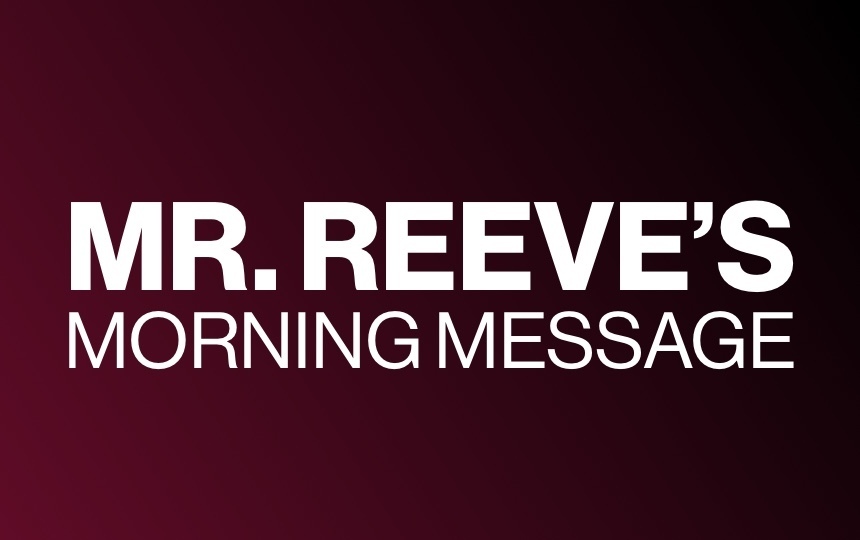 MR. REEVE'S MORNING MESSAGE - THURSDAY, APRIL 30
Brian Reeve
Thursday, April 30, 2020
April 30, 2020
Good morning Greenville Middle School!
Today I would like to point out Mr. Hash's Spartan STRONG Choice Board for week 6. Mr. Hash started these choice boards with the idea of the importance that we continue to be Spartan STRONG no matter where we are. He has been posting a weekly choice board with different ways to demonstrate the STRONG traits. You can find the choice boards on the district website under the middle school page. Here is a link to this week's choice board - Choice Board-Week 6
My favorite this week is the animal social distancing story. It is sure to put a smile on your face and it will only take you 2 minutes or less.

I also recommend you click on the Screen-Free Time Tracker and look at the list of Screen-Free activities. I have been going for a long walk every day with my family and dog to get some fresh air and exercise. What have you been doing or what will you start doing this week for a screen-free activity?
Students, just a reminder the 5-week interim period for the 4th quarter ends on Friday, May 15th. It is important for you to make sure if you have some Working Towards (W) as a grade that you redo and resubmit the assignment. If you have any Incompletes (I) please complete and submit them. If you have any questions about any assignment it is important that you attend your teacher's office hours or email them the question.
Have a great day!
Mr. Reeve
Morning Message:
EDUCATION
Plato is considered one of the greatest philosophers of Western culture. In 397 b.c., he founded the first university in the history of Europe. It would probably be fair to say that Plato understood a great deal about the importance of education.
Listen to his words to you today:
The direction in which education starts a person will determine his or her future
life.
Today, ask yourself this: In which direction am I headed with my education? Am I studying hard? Am I doing my best? Am I preparing myself for a successful future? Then remember what Plato says. The choices you make today about your education will determine your future.
With something to think about, this is Mr. Reeve reminding you to Be Kind, Be Responsible, Be The Best You Can Be. The choice is yours. Have a great day!
Helping Students Make Wiser Choices Project Wisdom®