EDIT MAIN
Parents' Decisions for 2020-21
In order to create class lists, restructure room utilization, and disburse resources equitably, the District is collecting parents' formal decisions about the upcoming school year regarding in-person instruction (for gr. K-5), hybrid instruction (for gr. 6-12), or remote learning. Additionally, the District is collecting parents' decisions regarding transportation on the school bus.
We encourage parents to complete the survey (link below) as soon as they feel prepared, but no later than August 11th. We understand that this is a difficult decision, but the sooner GCS has the information, the better we can plan for our students. We ask that if you have multiple children, please complete and submit the form for each child separately by selecting ""submit another response."
Parents' Decisions for the 2020-21 School Year
Submit a Question about the Reopening Plan
Preliminary Reopening Plans
This page contains information for Greenville CSD's preliminary reopening plans. This is a framework for the start of the 2020-2021 school year and is subject to change based on resources, further guidance from state agencies (NYS Governor's Office, NYS Department of Education, Department of Health, Center for Disease Control) and feedback from community stakeholders, as rules, regulations and official guidance allow.
Guiding Principles For Our Work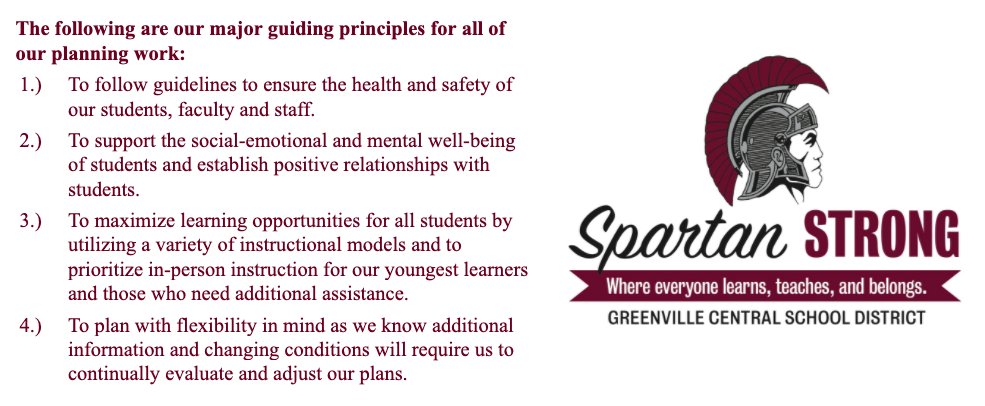 Instructional Program Summary
Elementary School (Grade K-5)
Students in grades K-5 will attend in person, Monday - Friday
Staff will be assigned to reduce class sizes (as determined by social distancing requirements and room square footage)
Special Area: Art, Music, PE will continue, primarily as a push-in model, Chorus will not be offered this fall
Staff will be encouraged to maximize small group activities and use of outdoor spaces
Sharing of materials will not be permitted
While in-person instruction is beneficial for students, a remote instruction option will be provided based on specific needs
Middle & High School (Grades 6-8 & 9-12)
Grades 6-12 will be using a hybrid model - Students will be on-site for 2 days of in-person instruction, then remote for 2 days, on an alternating AB/CD schedule.
Approximately 50% of the students will be on-site in order to maintain appropriate social distance. These groups will be called "Spartan" and "STRONG".
On remote instruction days, students will be required to participate in classroom work remotely and/or complete assignments. Student expectations on remote days are being developed at the building levels.
Teachers will use a variety of instructional practices including, but not limited to, live streaming, pre-recorded lessons, or videos aligned to NYS learning standards.
While the hybrid model of instruction is beneficial for students, a remote instruction option will be provided based on specific needs.