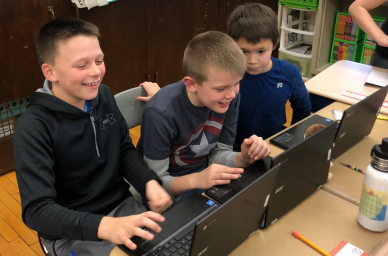 Seesaw at Ellis Elementary School
Todd Hilgendorff
Monday, October 21, 2019
Seesaw is a mobile app being used at our elementary school as a way for students to share what they are learning at school with their families. It allows students to create an online learning journal. Seesaw provides a safe and creative way for students to document their learning while practicing digital citizenship skills in a controlled environment. Each child has their own journal to which they can add photos, videos, drawings, and notes to showcase their learning in authentic ways. Seesaw is also used as a communication tool between teachers and families. Our elementary school art teacher, Mrs. Kelley, is using Seesaw with her art classes to create digital art portfolios. Mrs. Kelley says she loves using Seesaw with her classes because it gives her students an opportunity to reflect on their art-making process. To connect to your child's Seesaw account, please contact your child's
classroom teacher. For more information or help using Seesaw please visit
https://tinyurl.com/seesawfami... or scan the QR code.