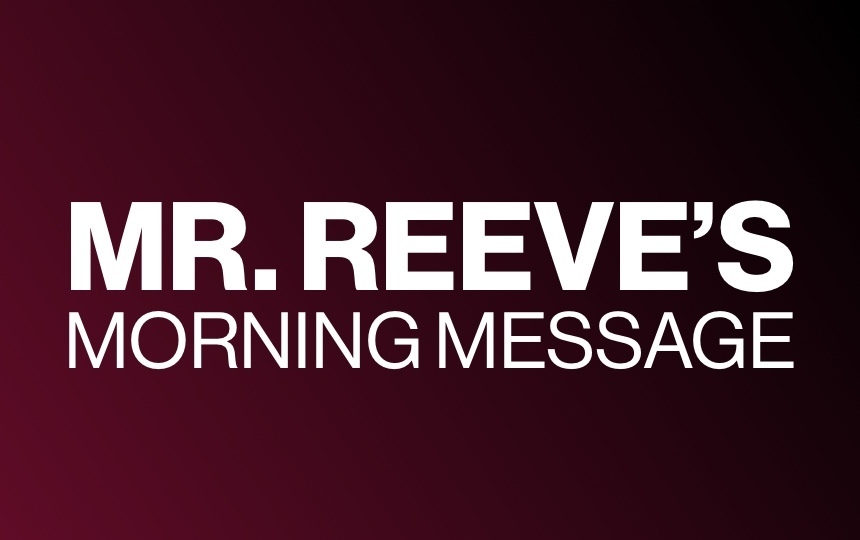 MR. REEVE'S MORNING MESSAGE - THURSDAY, MAY 14
Brian Reeve
Thursday, May 14, 2020
May 14, 2020
Good morning Greenville Middle School!
Today I would like to point out Mr. Hash's Spartan STRONG Choice Board for Week 8. Mr. Hash started these choice boards with the idea of the importance that we continue to be Spartan STRONG no matter where we are. He has been posting a weekly choice board with different ways to demonstrate the STRONG traits. You can find the choice boards on the district website under the middle school page. Here is a link to this week's choice board - Choice Board Week 8.
The theme of the Choice Board this week is to Respond Respectfully. My favorite part in the Choice Board room was clicking on the poster give respect get respect (clue - it is right above Mr. Hash's head.) Once you click on it up comes one of the greatest singers ever - Aretha Franklin. You can listen to her sing her very popular song Respect. I was singing and smiling this morning as I listened to it. Good thing nobody was around to hear me!
So, make sure you listen to it today as it will surely put a smile on your face and will help you keep the theme in mind of Respond Respectfully.
Students, just a reminder the 5-week interim period for the 4th quarter ends tomorrow. It is important for you to make sure if you have some Working Towards (W) as a grade that you redo and resubmit the assignment. If you have any Incompletes (I) please complete and submit them. Please reach out to your teachers if you have any questions.
Have a great day!
Mr. Reeve
Morning Message:
KINDNESS
There's an old Indian saying:
Go to the root and find the meaning.
It's interesting that the words kind and kin come from the same root word, which means "inborne...native.
Our kin...our family...kindred souls and friends…we all carry a common genetic code - kindness. So here's my bulletin. It comes from Aesop's Fables.
No act of kindness, no matter how small, is ever wasted.
The Swedes say it another way:
Kindness begets kindness.
Be especially kind to someone today.
With something to think about, this is Mr. Reeve reminding you to Be Kind, Be Responsible, Be The Best You Can Be. The choice is yours. Have a great day!
Helping Students Make Wiser Choices Project Wisdom®