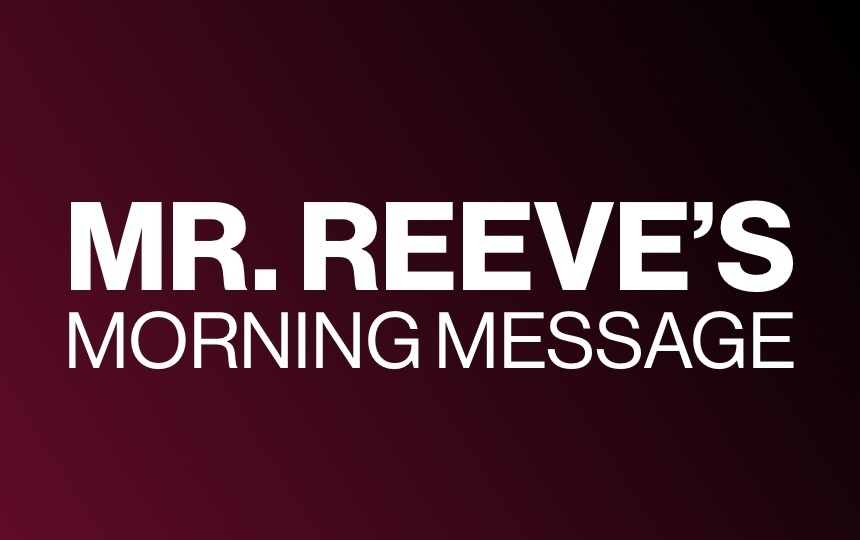 MR. REEVE'S MORNING MESSAGE - MONDAY MAY 11
Brian Reeve
Monday, May 11, 2020
May 11, 2020
Good morning Greenville Middle School!
Congratulations to the following students whose Greenville Green was selected for our weekly PBIS reward.
Since we will be doing remote learning for the rest of the school year I will be emailing these students and other previous winners this month to get them their reward.
Please remember that you all are expected to participate in your learning each day. The learning opportunities the teachers are providing you do allow you to work at your own pace and absorb the content.
Students, just a reminder 5-week interim period ends this Friday, May 15th. It is important for you to make sure if you have some Working Towards (W) as a grade that you redo and resubmit the assignment. If you have any Incompletes (I) please complete and submit them. Please reach out to your teachers if you have any questions.
Mr. Hash is looking for students to tape-record themselves reading books for our elementary students. If you are interested please email Mr. Hash at hashd@greenvillecsd.org.
Students if you are interested in helping New York State with coronavirus, they are looking for videos that demonstrate why it is so important to wear a mask in public. The winning video will be used as a Public Service Announcement. Please click on the link for more details if you are interested. Videos must be submitted by May 15th. https://coronavirus.health.ny.gov/node/2871
Have a great day!
Mr. Reeve
Morning Message:
SELF-RESPONSIBILITY - Character
In her famous diary, a very young Anne Frank wrote these words:
Parents can only give good advice or put (their children) on the right path, but the final forming of a person's character lies in their own hands.
Anne Frank is talking about self-responsibility which, in a nutshell, means taking responsibility for your thoughts, words, and deeds.
Our parents, teachers, and counselors can offer us valuable advice. They can recommend which path to take. They can share the wisdom they have gained through experience. But in the end, it is up to us to make the right choices.
Today, practice taking responsibility for your actions. If you make a mistake, admit it. If you hurt someone's feelings or say something you shouldn't, apologize. Learning to be self-responsible is learning to be a person of character, and being a person with character is a goal we should all set for ourselves.
With something to think about, this is Mr. Reeve reminding you to Be Kind, Be Responsible, Be The Best You Can Be. The choice is yours. Have a great day!
Helping Students Make Wiser Choices Project Wisdom®