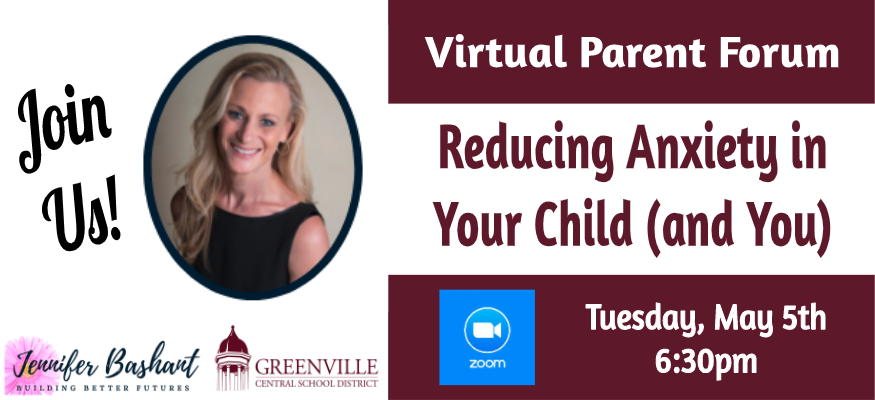 Virtual Parent Forum - Reducing Anxiety in Your Child (and You)
Todd Hilgendorff
Friday, May 01, 2020
Members of the Greenville school community are invited to a virtual parent forum on Tuesday, May 5th at 6:30pm.
Jennifer Bashant from Building Better Futures LLC will virtually present her parent workshop "Reducing Anxiety in Your Child (and You)".
One in eight children in America has a diagnosable anxiety disorder, but anxiety can be
hard to recognize because it often masquerades as anger or behavioral challenges. This
workshop will show you what to look for, and how to recognize each of these types of
anxiety:

Perfectionism
Separation anxiety
Phobias
Generalized Anxiety
You will also learn tips and strategies for helping your child cope with and overcome anxiety. There will be an opportunity to ask questions at the end of the presentation.
Register in advance for this webinar: https://zoom.us/webinar/regist...
After registering, you will receive a confirmation email containing information about joining the webinar. For parents unable to attend the live virtual meeting, this event will be recorded so it can be viewed for a limited time after the event.