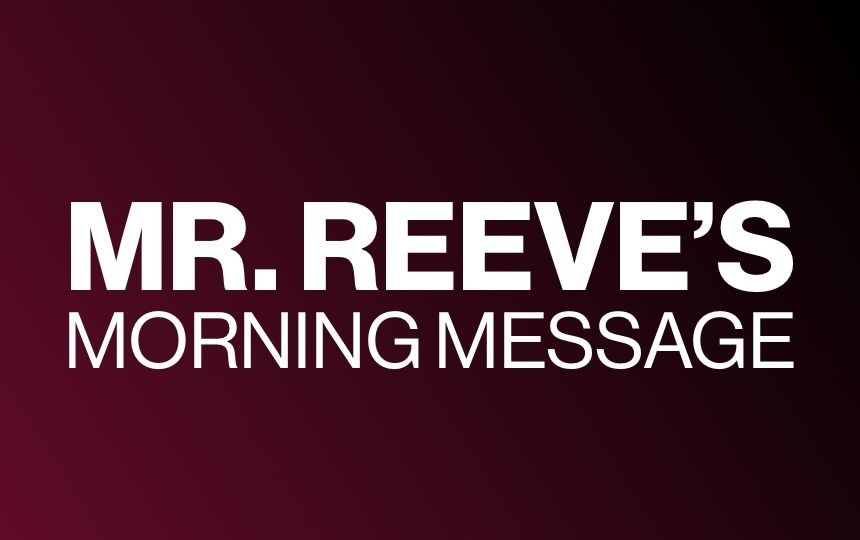 MR. REEVE'S MORNING MESSAGE - FRIDAY, MAY 1
Brian Reeve
Friday, May 01, 2020
May 1, 2020
Good morning Greenville Middle School!
Let's hope this old proverb holds true for the month of May! From the weather report for the weekend, it looks like we are going to be off to a good start!
Please remember from the Choice Board to do some Screen-Free activities this weekend!
Students, just a reminder the 5-week interim period ends on Friday, May 15th. It is important for you to make sure if you have some Working Towards (W) as a grade that you redo and resubmit the assignment. If you have any Incompletes (I) please complete and submit them. If you have any questions about any assignment it is important that you attend your teacher's office hours or email them the question.
Have a great weekend!
Mr. Reeve
Morning Message:
GOLDEN RULE - Respect
Here's an important question, so listen up! How do you like to be treated? Do you like to be treated with kindness? Do you like to be treated with respect? Do you like it when someone smiles at you or gives you a big hug or listens carefully to what you have to say? Most of you would give an enthusiastic "yes" to all these.
Now, ask yourself this question: How do I treat others? Do I treat others with kindness? Do I treat others with respect? Am I generous with my smiles and hugs? Do I listen to others when they speak?
Former President John F. Kennedy once said:
Every American ought to have the right to be treated as he would wish to be treated.
Today, remember the Golden Rule and treat others only as you would want to be treated.
With something to think about, this is Mr. Reeve reminding you to Be Kind, Be Responsible, Be The Best You Can Be. The choice is yours. Have a great day!
Helping Students Make Wiser Choices Project Wisdom®