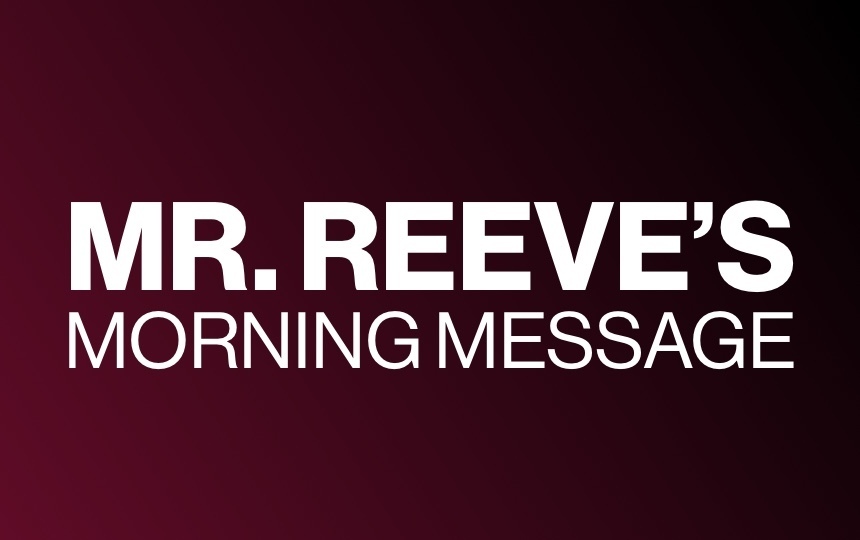 MR. REEVE'S MORNING MESSAGE - THURSDAY, APRIL 9
Brian Reeve
Thursday, April 09, 2020
April 9, 2020
Good morning Greenville Middle School!
I hope you all are having a great week in the circumstances we are in. We all need to make the best of it and stay positive. While you are working during the day and if you start to feel overwhelmed with anything, please stop and think about our Spartan STRONG traits.
Self-Control

Taking Action (asserting yourself appropriately)

Responding Respectfully or Responsibly

Offering Empathy

Never Giving Up (persistence)

Growing Together (cooperation)
Then shout the words made famous by our own Mr. Hash - "I am Spartan STRONG! We are Spartan STRONG!"
Please remember we are all in this together and if you are feeling overwhelmed with your work or have questions, you have a lot of support to reach out to whether it is someone at home or through reaching out by email to someone at school.
I am seeing the great things with the Greenville Greens that students have received so far this week. Keep up the great work!
Remember to send in your picture today to support the Spartan STRONG 518 Rainbow collage of students, faculty, and staff. Today is GREEN! Make sure you email your picture to Ms. Steele steelek@greenvillecsd.org . Please remember that it will be posted on the school's social media. Tomorrow is BLUE.
Have a great day!
Mr. Reeve
Morning Message:
SELF-DISCIPLINE - Responsibility
Marian Wright Edelman, founder of the Children's Defense Fund, has this to say about her childhood:
My daddy used to ask us whether the teacher had given us homework. If we said no, he'd say, "Well, assign yourself."
Part of growing up is learning self-discipline __ learning to discipline yourself so that the adults in your life don't have to. And as Marian Edelman's father says, you have to start learning to "assign yourself" by deciding when to put in a little extra effort, when to review, when to move ahead, and when to create a timeline or a project plan.
Today, take another step toward becoming a responsible, successful human being. Assign yourself to a job that you know you need to get done
With something to think about, this is Mr. Reeve reminding you to Be Kind, Be Responsible, Be The Best You Can Be. The choice is yours. Have a great day!
Helping Students Make Wiser Choices Project Wisdom®