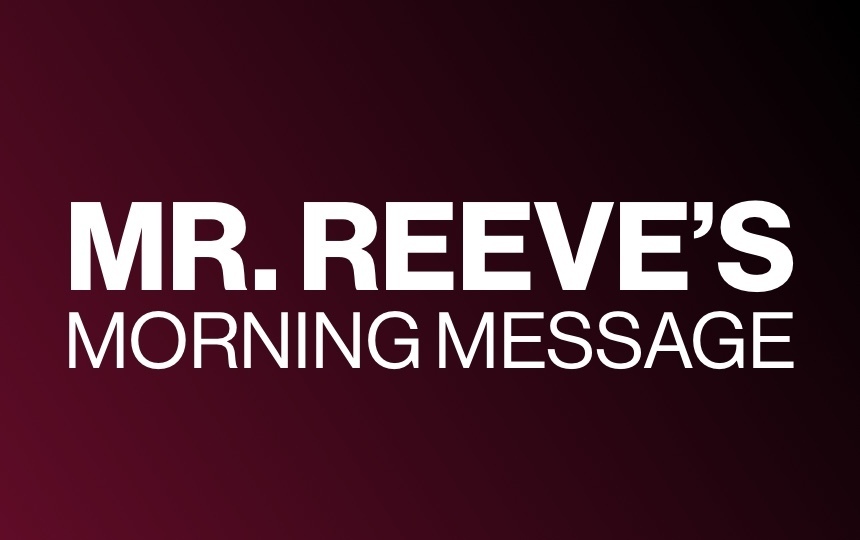 Mr. Reeve's Morning Message - Friday March 20
Mr. Reeve
Friday, March 20, 2020
March 20, 2020
Good morning Greenville Middle School!
Happy Friday! So it is Day 3 of working from home. I hope you have been able to create a schedule at home similar to your typical school day and that any socializing has been virtual. If you need to talk about creating a schedule at home please email me or call the school.
Please make sure if you have questions that you email your teacher, teaching assistant or myself and we will get back to you. If you know of a classmate who is having trouble with their internet, please have them call the school at 518-966-5070 ext. 451 and someone will call them.
Keep up the great work with your assignments!!
SUCCESS Work Ethic
Great American historian Charles Kendall Adam studied the lives of many great men and women. Years of research led him to the following conclusion:
No one ever achieves great success by simply doing what is required of them.
Mr. Adams is saying that truly successful people put in a little extra effort. They go the extra mile.
So today ask yourself this: Am I doing only what is asked of me? … or … am I willing to give a little extra in order to be the best I can be? Then try this little experiment. Tonight, surprise your parents by doing an extra chore around the house; or put in a little extra study time; or run another lap; or practice ten minutes more than you have to. Follow the lead of great men and women everywhere and get into the habit of doing more than simply what's required.
With something to think about, this is Mr. Reeve reminding you to Be kind, Be Responsible, Be The Best You Can Be. The choice is yours. Have a great day!
Helping Students Make Wiser Choices Project Wisdom®
Take care,
Mr. Reeve