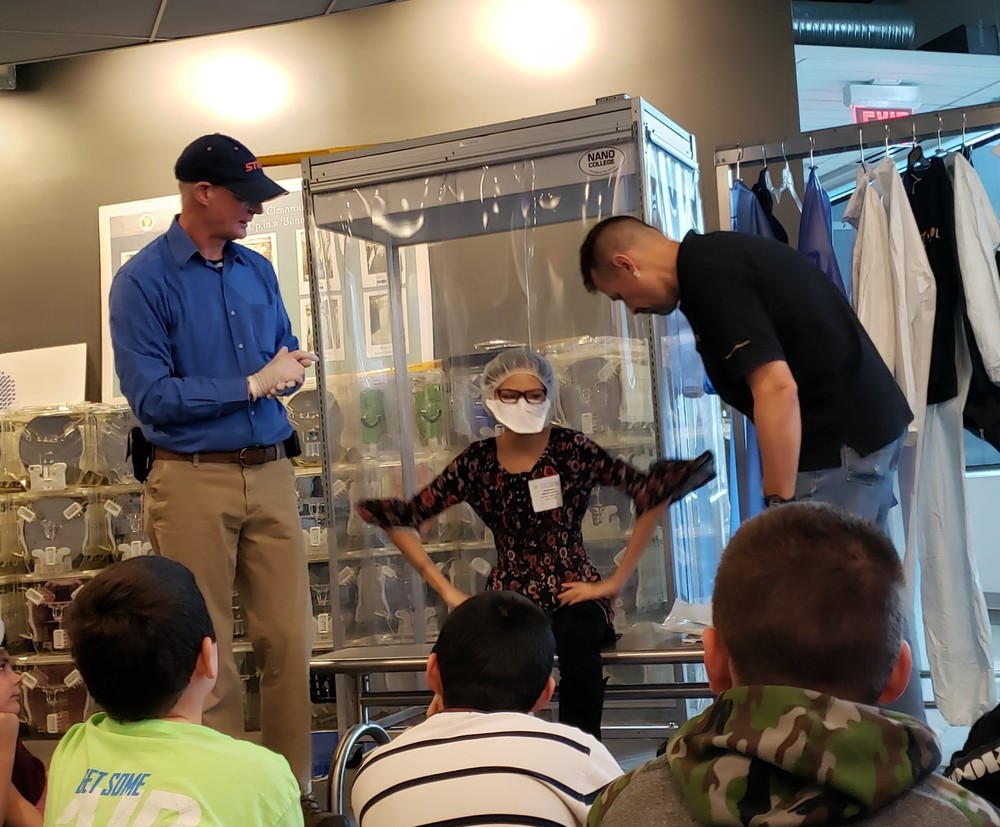 Two Destinations, One Class!
By James Hutchins and Teresa Carlton
Sunday, December 08, 2019
7th Grade Visits Huyck Preserve and College of Nanoscale Sciences and Engineering
By James Hutchins and Teresa Carlton
Two Destinations, One Class!
The entire 7th Grade visited the Huyck Preserve in Rensselaerville and the College of Nanoscale Science and Engineering (CNSE) in Albany on Monday, November 25th and Tuesday, November 26th. On Monday, half the class went to the Huyck and the other half went to the CNSE. On Tuesday, the groups switched destinations.
The students going to the Huyck Preserve were accompanied by Todd Hilgendorff (Director of Curriculum, Instruction, and Assessment), Jim Hutchins (Science), and Alida Fabian (Social Studies). Students going to the CNSE were accompanied by Teresa Carlton (ELA), Sheron Malcolm (Math) and Karen Manning (Special Education). Tara Proper (Teacher's Aide) accompanied her students to both destinations. Special thanks to Katherine Hotaling and Leann Nopper- parent chaperones who accompanied students to the CNSE.
Thanks to Tracy Churchill, Food Services Manager, and the Middle School teaching staff for their assistance and flexibility.
A Walk in the Woods - Huyck Preserve
The field trip started in the Eldridge Research Center with a presentation from Anne Rhoads, Ph.D. Dr. Rhoads provided an introduction to the history of the Huyck Preserve lands, an explanation of the importance of the forest ecosystem, and a discussion of factors that could affect the health of a forest ecosystem. Students were taught how to collect data on the health of a forest, including mapping out a 10x10 meter plot. Students then went into an area that was a Red Pines Plantation and collected data. Returning to the Research Center, students calculated average values for their data.
After lunch, Dr. Rhoads led the students through an interpretation of their data which indicated that the forest area studied was in fair health. The field trip ended with a guided hike around Lincoln Pond.
The field trip was a great opportunity to expose students to important concepts in ecology that they will be studying in 7th Grade Science in the weeks ahead. It also showed students that scientists work in the outdoors (as well as in labs).
Thanks to Dr. Anne Rhoads, Huyck Preserve Director of Conservation and Education; Kelly Martin, Wildlife Rehabilitator and Educator; Michaela Fisher, Membership and Outreach Coordinator; and Jaime Winans-Solis, Ph.D., Education Staff, for working with our students.
For more information about the Huyck Preserve, including their summer educational programs, please visit their website- https://www.huyckpreserve.org/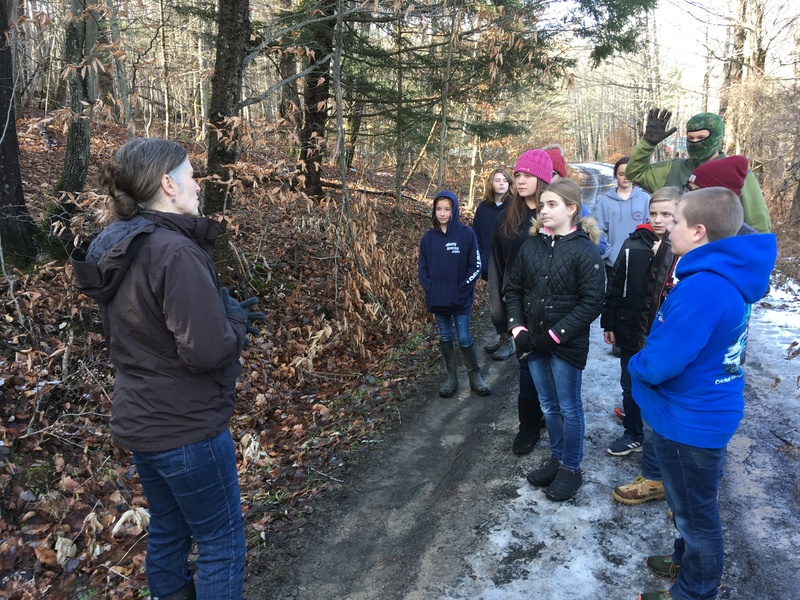 Small Science, Big Deal! - College of Nanoscale Science and Engineering (CNSE)
Students attending the CNSE trip were given an overview of nanoscience as well as a tour of the vast campus. On the tour, students viewed scientists working in laboratories and saw multimillion dollar scientific equipment in action, including an electron microscope. Students were taught about the importance of conducting scientific research in a "clean room" and, with the help of student volunteers, were brought through the step-by-step process a scientist t
akes in order to enter one. More student volunteers assisted in demonstrations that measured energy conduction. Perhaps most importantly, students learned how scientists turn dirt into nanotechnology, giving them a new perspective on the dust under their beds!
Thanks to Elaine Garrett, Public Education and Outreach Coordinator; Stephen Stewart, Instructional Support Technologist; and Dr. Kathy Dunn, Associate Professor of Nanoscience for working with our students.